Content jump to the navigation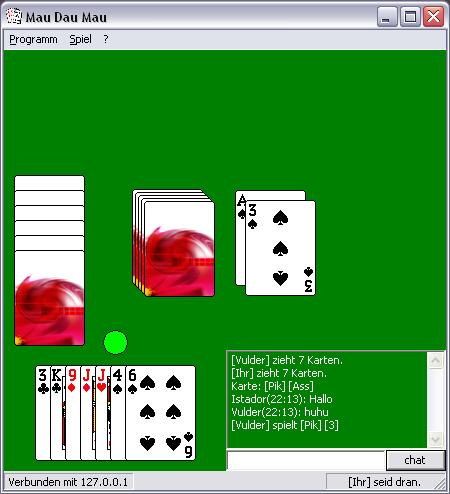 I played the card game Mau Mau excessively with my classmates during my time at the Staatliche Gewerbeschule Energietechnik - G 10. In 2008, when I got the task to develop a software project in Delphi for the Techniklehre course at the Fachoberschule (FOS), I decided to make the game Mau Dau[1]DAU = "Dümmster anzunehmender User" (german for "dumbest possible user", derived from the german translation for maximum credible accident) Mau.
A Windows program was created to play Mau Mau with two to four players over a local network or the internet[2]If one of the players has an open port or can open one.. The game rules can be changed, the players can chat with each other and there is an german-only manual. The Windows cards.dll is used to draw the cards.
The user interface can be changed between german, english and france[3]The france translation was made by Christian Stoffers. through the settings.
You can download Mau Dau Mau here.
Althought it was developed for Windows XP, it is still running today on Windows Vista, Windows 7 and on GNU/Linux with WINE.
| | |
| --- | --- |
| Languages | Delphi, HTML |
| Technologies | Network sockets, DLL, CHM, INI |
| IDE | Turbo Delphi, HTML Help Workshop |
| Participants | 1 (2 total) |